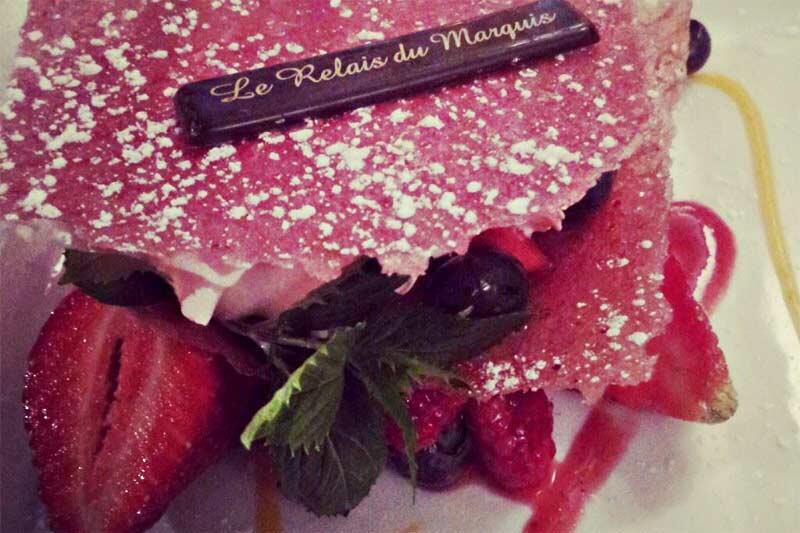 Le Relais du Marquis
So much more than a salad!
Restaurant
at Plouay
This former coaching inn once frequented by nobility offers an amazingly delicious chef's salad comprising the very noblest of Brittany's produce…

The Relais du Marquis, with its exposed stone walls and its fireplace, has to be the oldest building in Plouay … It was here, in this former coaching inn, that Michel Guillemard decided to set up shop after working in Burgundy (a glance at the wine list shows he still likes to keep up with a few old friends!) and then Carnac's thalassotherapy centre. And it is here that the chef likes to recreate the Brittany he loves, where land and sea meet in harmony, offering top quality produce, like this fish delivered by Doëlan fishermen, or this lamb from Bubry, and these vegetables from a farm that's going organic…And all this is symbolised by the house flagship salad "where I put all the best bits." Which means...flakes of foie gras, marinated salmon, scallops, sweetbreads, asparagus: "It all depends on what's in season and what mood I'm in!" If he happens to be in a bad mood - not a frequent occurrence - you could try the scallop and chestnut casserole, pollock stuffed with spicy andouille sausage, or lamb tajine…Everything here is so delicious, who cares what mood he's in!
Activities

Activity for 3-6 years
Activities for ages 9 to 12

Activities for ages 6 to 9
Official website of tourism in Brittany