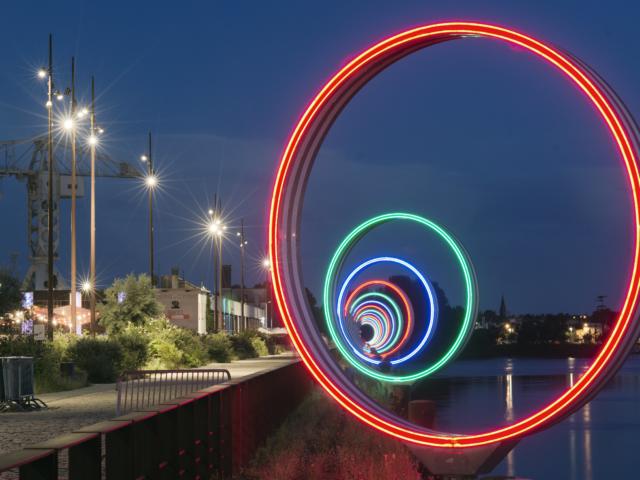 Art galore
The Voyage à Nantes unites around fifty cultural elements. For two months, art infuses the city of Nantes and weaves a collaborative fabric. The 12 kilometre long trail is reactivated by artists, architects, designers and gardeners…
The cultural gateways (media library, museums, national venues…) have to open wide in order to welcome their large and inquisitive public 7 days a week. Over 60,000 visitors will step into the Théâtre Graslin to wonder at Aurélien Bory's 'Spectacula' light installation (VAN 2015).
A constellation of artists unfurls into public spaces turning them into great places to meet up. On the banks of the Loire the non-conformist furniture collective Fichtre (barbecue, tables …) has created a really welcoming spot. In place Bouffay, art has fun every year. The artist Baptiste Debombourg has stacked 1,200 café chairs up high into a huge, colourful roller-coaster ("Stellar" – VAN 2015).
Works of art pop up in the most unexpected of places: naughty sign posts disrupt the flow of the streets. The 'skate ô drome' is part skatepark, part velodrome installed on the roof of the school of architecture (VAN 2015).