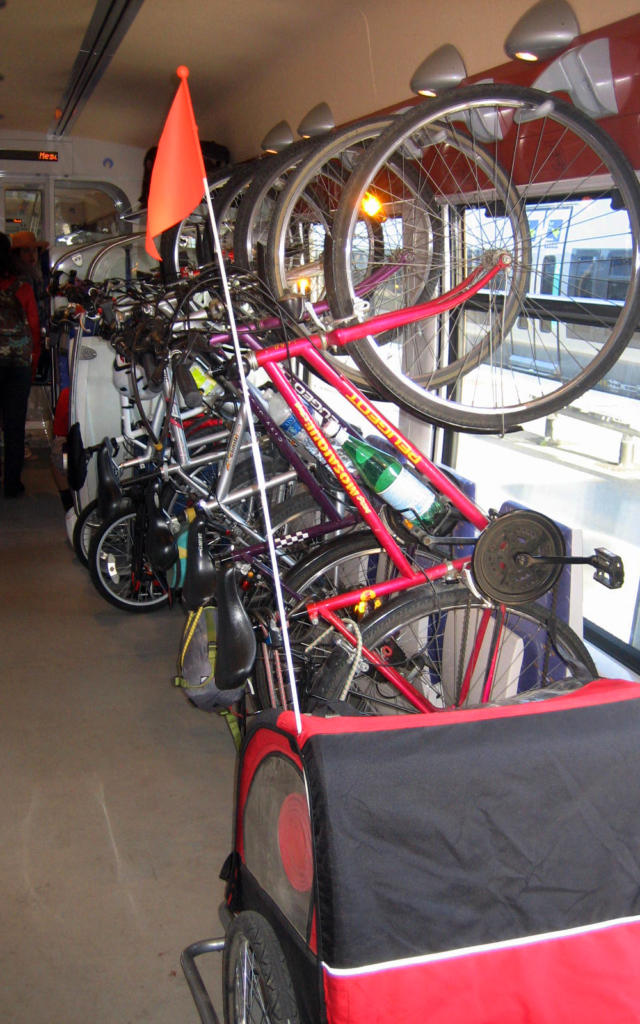 Can I travel by train with my bike? Is it free? Do I need to book?
Depending on the types of train (TGV, OuiGo, TER), the conditions for travelling with a bike vary:
by TGV high-speed train
Dismantled and transported in a specific cover with maximum dimensions of 120 x 90 cm, your bike is considered as hand luggage. You can therefore take it with you free of charge and without booking.
Not dismantled, your bike can be transported in specific places on some TGV lines. This service is charged (10 €) and only available by booking on sncf-connect.com
Enter your journey
Select the section: "Add a bike"
by OUIGO
Dismantled bikes stored in a cover can be transported on OUIGO trains. You need to subscribe to the "additional luggage" option when buying your ticket. This option will cost €5 at the time of purchase, or €10 if you decide to add it later.
by TER regional train
New services for your bike
The number of bikes on-board BreizhGo regional trains has practically doubled in 10 years. Some regional rains are very busy during rush hour and some routes are in great demand, particularly in the summer. Due to this, it is not always possible to guarantee that a bike can be taken on board, as priority is given to transporting passengers. However, to ensure smooth journeys and to continue to take advantage of Brittany by bike, the Région Bretagne and the SNCF have been trialling several new options since June 2021.
A system for booking bike spaces
From 7 June 2021 and until 30 September 2021, the rules for taking bikes on BreizhGo regional trains are changing. Until now, it wasn't possible to reserve a space for your bike. Since 7 June, occasional passengers with a non-folded bike can and must reserve a space for their bike, in addition to their passenger ticket. This booking costs €3 per item (non-folded bike and/or folded trailer) and per train. It does not concern passengers with subscriptions, who can continue to take their bike free-of-charge and without booking on their daily journeys, subject to available space.
Additional bike spaces
From 3 July to 29 August 2021, around one hundred trains per week will get 16 extra bike spaces. These trains will travel on the Rennes-St Malo, Rennes-Brest, Rennes-Quimper and Quimper-Nantes routes. On these trains, before getting on, cyclists who have booked their bike space give their bikes to an agent, who will load them into the dedicated bike area on the train.
Find all the details on: https://www.ter.sncf.com/bretagne/loisirs/velo-train/embarquement